Pictures of Retractable Screen Doors installed in Sherman Oaks (Open and Closed invisible)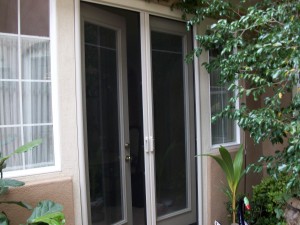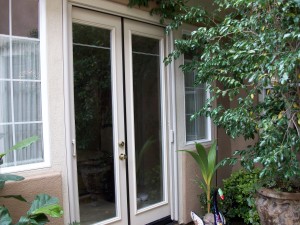 Consider this before deciding on Screen doors or Retractable screen doors.
 Sherman Oaks Screen Doors
Another area that customers need screens for is the sliding screen door, also known as the patio screen door. Here customers have two choices really that will work properly, sliding screens doors and retractable screens doors. They both work great and get the job done. It all comes down to what kind of use, or should I say abuse will this door be getting and how many people will be going thru it and how many times per day. In most cases you cant compare the activity a screen door gets from a single retired person that goes in and out thru the door 3 or 4 times in a day to a family of 6 that go thru the same door 150 times per day. Always get someone that has good experience to recommend what's best for you and ask questions on what you're buying.  Remember that going for the cheapest sometimes can be more expensive.  You don't want to be going to the hardware store every time spring comes around because your screen door didn't make it
Sherman Oaks Screen Doors
Sherman Oaks Retractable Screen Doors
Sherman Oaks Window Screens
Sherman Oaks Patio Sliding Door
Sherman Oaks Wood Doors
Sherman Oaks Garage Door Screen
Sherman Oaks Entry Door
Sherman Oaks French Doors
Sherman Oaks Glass Screen Door
Sherman Oaks Swinging Screen Door
Sherman Oaks Front Screen Door
Sherman Oaks Patio Door
Sherman Oaks Fiberglass Door
Sherman Oaks Sliding Door
If you're searching for Screen Doors or window screens in Sherman Oaks area, or other near by areas, here are some other cities we service.
We confirm the measuring & ordering for Retractable screen doors, Sliding screen doors, Swinging screen doors and Window screens. We measure the opening of your doors in several places, (Height, Width, Depth & a few other specifications to consider).  If you are ordering any kind of the screen doors mentioned there are different ways to measure. We will let you know if standard size will fit your opening, to order a standard size door. If a standard size door will not fit into your opening then we will indicate the following deductions or additions to order a special size door. Note: Special size kickplates should be measured from bottom of door to top of kick plate holder.
The most common and traditional applications for screen doors.
door glass, door screen, entry door, fiberglass door, french door, french door screen, front screen door, garage door screen, glass door, glass screen door, invisible screen door, patio door, patio sliding door, screen door, security door, security screen, security screen door, sliding door, sliding patio door, sliding screen door, sliding security screen, swinging screen door, window door, window screen, window screens, wood door, wood doors.
                                  www.RetractableScreenPros.com               www.CompleteScreens.com
  www.ClearviewInvisibleScreens.com     
See our ad in the   www.YELLOWBOOK.com       
If you are looking for Screen Doors and Windows Screens in the Sherman Oaks area, or other nearby areas, here are some other cities we service
Mobile Service in the following areas:

Agoura Hills, Bel Air, Beverly Glen, Beverly Hills, Brentwood, Burbank, Calabasas, Canoga Park, Chatsworth, Encino, Glendale, Granada Hills, Hidden Hills, Hollywood, Los Angeles, Los Feliz, Malibu, Mission Hills, Moorpark, Newbury Park, North Hills, North Hollywood, Northridge, Oak Park, Pacific Palisades, Pacoima, Panorama City, Porter Ranch, Reseda, Santa Monica, Sherman Oaks, Simi Valley, Studio City, Sun Valley, Sylmar, Tarzana, Thousand Oaks, Toluca Lake, Topanga, Tujunga, Universal City, Van Nuys, Ventura, West Hills, West Hollywood, Westlake Village, West San Fernando Valley, Winnetka, Woodland Hills, Valley Village.
We now serve these areas also:

Briggs Terrace, Canyon country, Chevy Chase, Crescenta Highlands, Flintridge, Honby, Humphreys, La Canada, La Crescenta-Montrose, Lakeview Terrace, Mint Canyon, Newhall, Santa Clarita, Shadow Hills, Stonehurst, Sunland, Tujunga, Valencia, Whiting Woods,
Alhambra, Aliso Viejo, Anaheim, Anaheim Hills,Arcadia, Baldwin Park, Bell Flower, Bell Gardens, Buena Park, Carson, Cerritos, Chino, Chino Hills,Claremont, Commerce, Compton, Corona Del Mar, Costa Mesa, Covina, Cudahy, Culver City, Dana Point, Diamond Bar, Downey, Duarte, El Monte, El Segundo, Fullerton, Gardena, Glendora, Garden Grove, Hawaiian Gardens, Hawthorne, Huntington Beach, Industry, Inglewood, Irwindale, Irvine, La Habra Heights, La Palma, Lake Forest, La Mirada, Lakewood, Laguna Beach, Laguna Niguel, La Puente, La Verne, Little Rock, Lomita, Long Beach, Los Angeles, Manhattan Beach, Marina Del Rey, Maywood, Mission Viejo, Monrovia, Montebello, Monterrey Park, Newport Beach, Norwalk, Ontario, Orange County, Palos Verduth Pasadena, Temple City, Torrance, Tustin, Venice Beach, Verne, Vincent, Walnut Grove, Westminster, Whittier, Yorba Linda