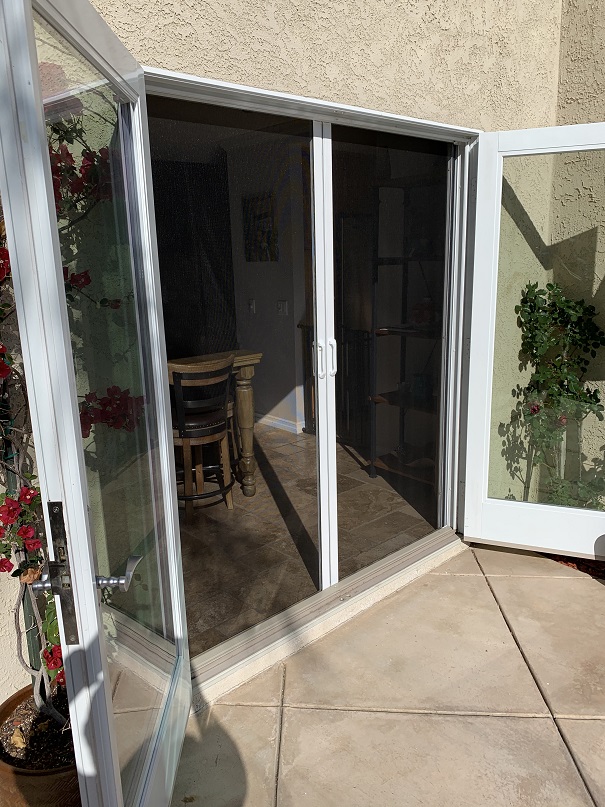 Complete Screens retractable screen doors
Black retractable screen doors installed in Porter Ranch. Retractables also, known as pocket doors are affordable and a great option if you do not want to see a conventional swinging screen door all year round.
Make the retractable screen door vanish, disappear. Use all the room you need by taking advantage of the area where the hinged door swings. Also, eliminating the dilemma of entering or exiting from a particular side only.
Complete Screens specializes in custom designed retractable screen doors at affordable prices.
Whether new construction, a home remodeling project, or a replacement door installation, we have the knowledge, skills, and experience for the job.
Every door is designed and custom built to reflect each client's personal wants and needs. Our goal is to assist you in designing a retractable door that will add beauty and function to your home, as well as value to your home.
Choose multiple colors and styles. Classic White, Calico Linen, Slivered Almond, Sandal Wood, Driftwood Beige, Hartford Green, Rideau Brown, Coastal Grey, Mineral Bronze, Phantom Black.
We will also help you choose the perfect hardware, sills and rails from our many types and designs to match your home decor.
Best to, contact us today for a FREE quote and let us show you why we are the right choice.
Whether a home remodeling project, replacement door installation, or a new construction, Call us we have the skills, knowledge and experience for the job.