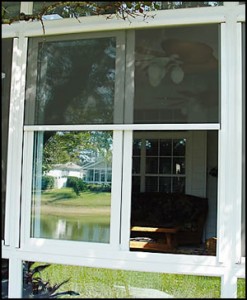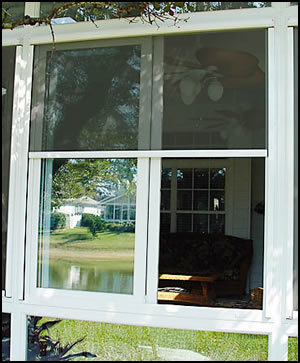 Retractable window screen Sunshades
Whether in your home or office, without the Retractable Window Screen Sunshade system managing sunshine can be an impossible task. We appreciate the natural sunlight that brightens up our rooms, but are frustrated by the glare it creates on our computer screens, televisions or in our faces when we try to read or talk with friends.
It is difficult to protect our furniture and flooring from fading by the suns rays, but still we don't want to give up our precious view of the outside. Let's not forget the uncomfortable heat it causes in the late afternoon! Retractable Window Screen Sunshade systems are the answer to these problems.
The high tech fabrics used in these screens are designed to filter the sunlight, rather than blocking it out. It effectively reduces heat absorption, prevents cooling loss, and helps to eliminate glare. While they provide substantial protection against fading they still preserve the outside view. Over the years Complete Screens Mobile Retractable Screen Service  has been installing motorized roll-up screens and shades and we have the experience and technological background to provide you with truly effective sunlight management.
Applications are for: Windows screens, Doors screens,  Patios and Decks, garage doors,
Benefits are: Control Interior Temperature, Protect Interior Decor, Reduce Cooling Costs,
Maintains Views, Reduces Glare, Limits UV Exposure
We offer mobile screen service in the following locations: ACTON, AGOURA HILLS, AGUA DULCE, CALABASAS, CANYON COUNTRY, CASTAIC, FILLMORE, GRANADA HILLS, LANCASTER, LOS ANGELES, MALIBU, MISSION HILLS, MOORPARK, NEWHALL, NORTH HILLS, PALMDALE, PEARBLOSSOM, PORTER RANCH, SAN FERNANDO, SANTA CLARITA, STEVENSON RANCH, SUN VALLEY, SUNLAND, SYLMAR, TOPANGA CANYON, VALENCIA, VENTURA, WEST HILLS, WESTLAKE VILLAGE, WOODLAND HILLS